About the Clinton County Solid Waste Agency
The Clinton County Area Solid Waste Agency is located in Clinton, Iowa. Our agency serves the County of Clinton for solid waste disposal and recycling programs. CCASWA was formed in 1972 under a 28 E Agreement, which is each city and county in the Clinton County area have ownership of the agency. This agency was formed to create a regionalized landfill. Until this time, each city had been responsible for its own solid waste disposal area.

December 13, 1974, two landfills opened in Clinton County. One site was placed at the current location at 4292 220th. St. in Clinton. The other landfill opened in Welton, Iowa located in the middle of the county on old US Highway 61 North. The Welton site closed in 1989.

Along the way, recycling programs began to take place in Clinton County. Items such as tires, yard waste, and appliances were not allowed to be disposed of in the landfill.

In 1991, the Recycling Center opened and curbside recycling started in Clinton County. Materials such as plastic, cardboard, newspaper, and tin are now kept out of the landfill. Items such as these are shipped out to be made into new items such as milk jugs, plastic lumber, floor matting, and other items that are made out of metal. In 2019, the Recycling Center became a single stream transfer station for recyclable materials.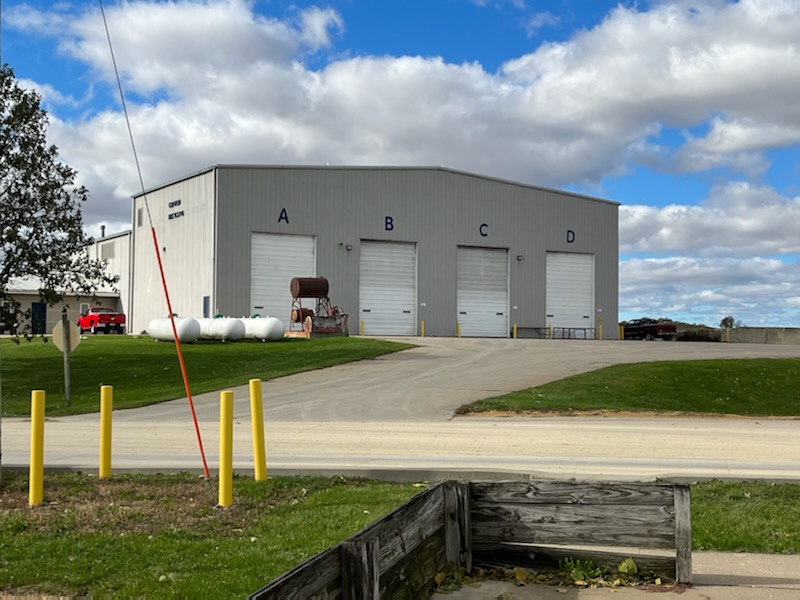 The Regional Collection Center opens in 1995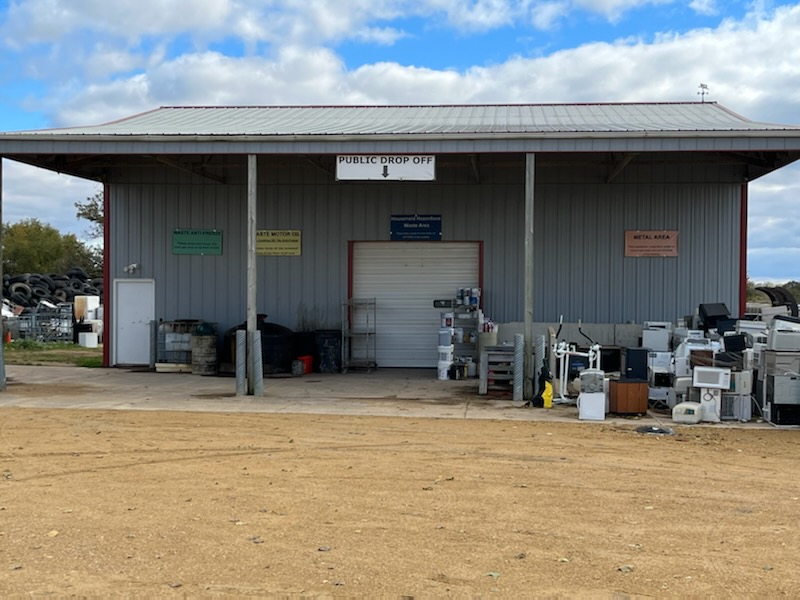 The Regional Collection Center started in 1995 taking household hazardous materials from homes in Cedar, Clinton, and Jackson Counties. Materials that are collected are paints, cleaners, home improvement items and automobile products.
Modernizing the Landfill
Another major step for the CCASWA came in late September 2007, when the Agency opened its first Subtitle D Compliant landfill cell. It was the first alternately lined landfill cell for the Agency. The lined landfill allows for easy collection and treatment of trash contaminated leachate water. This protects the groundwater and ultimately the environment.
More expansion with the Public Drop-off Center
In 2014, CCASWA opened its first citizen's convenience public drop-off (PDO) area. The PDO utilized the tipping floor of the former Bio-Reactor solid waste composting vessel. Small vehicles can use the area Monday-Friday and stay away from the landfill and the large trucks there. The PDO also offers the agency a second chance at pulling recycling that may have been missed in patrons' loads.

Solid waste and recycling has come along away from the days of open dumps. CCASWA is proud of the achievements that we have done to create sound environmentally friendly programs for our residents in Clinton County, Iowa.
---
Affordable Landfill Rates
Clinton County Area Solid Waste Agency will charge you a minimum of $8 for your first 360 pounds of waste or yard waste. Any weight over 360 pounds graduates up to the $44 per ton rate. Hard to Handle Waste, such as railroad ties, telephone poles, etc., is charged at a rate of $88 per ton. You are subject to a $100 fee if you bring an uncovered or unsecured load.

Bring us your rubble, concrete, and other large pieces. Large pieces must be less than one cubic foot.
You will be charged $5 per ton for concrete, concrete blocks, black top, solid fill, brick, and sand.

Secured load rule pdf Overall Facility Rules:
No liquids
No scavenging
No hazardous materials accepted
Children and pets must stay in vehicle at all times
Inclement Weather & Wind Closure Policy
Easy-to-use public drop-off area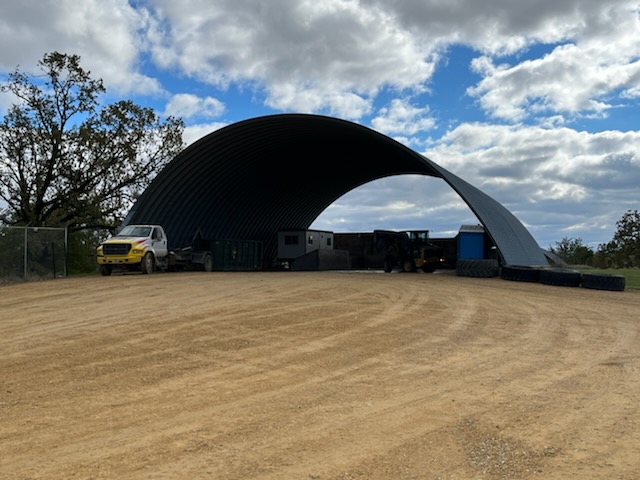 You may use our public drop-off area for your truck, car, van, or SUV for no additional cost. This service is only available Monday - Friday (M-Thurs 7:30A-4:30P, Friday Hours 7:30A-3P).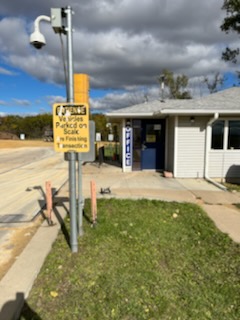 Weigh across the scale as normal. Signs will direct you to the Quonset or hoop building on the east side of the property. This is a covered area on cement, with no mud and less exposure to bad weather.

Unload your waste on the cement. Return to the scale, reverse of the route you took, weigh out, stay on the scale, and come in the office to pay.

Drop-off Area Rules:
No shingles or large loads of building materials
No powders
No multiple-axle trailers
No liquids
No scavenging
No hazardous materials accepted
Children and pets must stay in vehicle at all times
All materials prohibited from going to the landfill are also prohibited from the public drop-off area.
---
What is Considered Hazardous Material?
The Regional Collection Center of Clinton County Area Solid Waste Agency collects hazardous materials that are combustible, corrosive, reactive, or toxic. Items include insect repellants, pool chemicals, oil-based paint, furniture polishes, and gasoline. (These items may not go the the landfill!)

The service is FREE to Clinton County residents. Clinton County residents may drop off these materials WITHOUT an appointment during normal business hours.

BUSINESSES (VERY SMALL QUANTITY GENERATORS [VSQG] ONLY) AND OUT OF COUNTY RESIDENTS may be eligible to take part in this program, BY APPOINTMENT ONLY. FEES APPLY.
Bring us your weed killers, bathroom cleaners, floor cleaners, light bulbs, and more.
Common Household Materials
Household Cleaners
Home Improvement
Automotive Products
Pesticides
Miscellaneous
Batteries (Rechargeable, Lithium, Non-Alkaline, Etc.)
Flourescent Light Bulbs
Resources:
CCASWA accepts medical sharps for FREE from Clinton County residents. There is a $3 per gallon charge for businesses and out of country residents.
Videos:
---
Large Variety of Products to Recycle
Bring your plastic food containers #1 - #7, tin cans (no labels), glass food jars, aluminum foil, pans, newspapers, corrugated cardboard (3' x 3'), cereal boxes, shoe boxes, tissue boxes, frozen food boxes, soda boxes, magazines, and more to Clinton County Area Solid Waste Agency. No need to sort. It's single stream recycling. Out of county recycling costs $44 per ton.
All recycled items must be generally free of contaminants.
Some plastics are not accepted
Plastic films and bags
Containers for hazardous materials
All Styrofoam products
Lids containing Styrofoam inserts
Medical supplies
Plastic without a recycling symbol
Large, bulky, or oversized items
Business recycling program
All paper products you're trying to recycle should be dry.

Bring the recycled items from your business to Clinton County Area Solid Waste Agency. Businesses may be charged for harder to process materials such as glass.

All recycled materials need to be clean with no lids or other interior packaging.
Secured load rule pdf
---
Reaching out to the Community
Let Clinton County Area Solid Waste Agency come to your school or speak to your group for a fun and educational session. You may also visit us for an eye-opening tour of our facility.
Clinton County Area Enviro Kids
Clinton County Area Enviro Kids is a summer program for children in third through fifth grade. The program is co-sponsored by CCASWA and eco-friendly businesses.

Your children will have a great time with this program; also it helps them to learn more about how they can care for the environment.
Tour our Facility
Visit Clinton County Area Solid Waste Agency's recycling center and see how the plastic is sorted and all the other materials are processed. Director of Operations and Education, Brad Seward will conduct your tour.

Schedule a Tour

Click here for job opportunities.
---
Affordable Appliance Rates
Recycle your home appliances, including stoves, refrigerators, water heaters, washing machines, dryers, deep freezers, microwaves, furnaces, dehumidifiers, and more for $7.50 each at Clinton County Area Solid Waste Agency. Out of County residents/businesses will be charged $10 each for appliances. Appliances may not be disposed of in the trash. Inquire at office for disposal instructions.
Tire rates (May NOT go to the landfill)
All business tires and semi and larger tires will be weighed
1-10 car or light truck tires - $4 each
1-10 car or light truck tires on rim - $5 each
10 tires or more - $275 per ton
Agricultural, off-road implement, and large tires - $375 per ton
FREE scrap metal recycling
Bicycles
Lawnmowers
Fences
Feed bunkers
Chairs
Must be free of contaminants
Electronic waste (May NOT go to the landfill)
You may bring an item that contains a circuit board:
Computer towers or CPUs, small or regular printers and copiers - $7 each
ALL computer monitors and televisions (screen size 20 inches or less) - $12 each
Large copier or printers - $12 each
Televisions (screen size over 20 inches) - $17 each
Businesses and schools - $7 per unit (for all e-waste items not listed above)
Click here to see our recycling rates.
---
Composting is Good for the Environment
Clinton County Area Solid Waste Agency encourages you to compost in your backyard. It is very easy. Instead of burning yard waste, set up a compost bin in your back yard. Let us help you simplify the composting process.
Compost materials
Grass clippings
Leaves
Garden materials
Fruit scraps
Vegetable scraps
Paper
Maintaining a successful compost bin
Mix your materials with water from time to time. The moisture content should be the same as a wrung-out wet sponge.

Looking for affordable, composted Woody Mulch? Composted, wood, landscape residuals are on sale for $5 per ton.
Job Openings
No openings at this time.